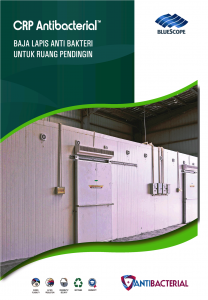 CRP ANTIBACTERIALTM pre-painted steel
CRP ANTIBACTERIALTM steel has been developed to meet the requirement of insulated panel market for use in cool rooms and other hygiene sensitive environments.
CRP ANTIBACTERIALTM steel has a high quality zinc coated steel coil which provides excellent formability and corrosion resistance.
Both sides of the steel strip are coated with a conversion coating to ensure excellent adhesion of the paint to the metal surface and also assist in overall corrosion resistance of the product. A corrosion inhibitive primer is applied on both sides, followed with a high quality top coat and backer coat on the reverse side. The top coat contains an antibacterial ingredient called Microban.Incorporating Microban antibacterial technology in the coating yields durable antibacterial performance that will not wash off and stays effective for the useful life of the product.
The substrate for CRP ANTIBACTERIALTM steel is TRUZINC- zinc coated steel that provides excellent corrosion resistance and durability, is easy to roll form, and will not crack or peel during the panel forming processes. The galvanic protection of TRUZINC steels zinc coating provides excellent protection to cut edges, which are especially vulnerable to corrosion.
Apart from all those qualities, CRP ANTIBACTERIALTM steel also passes food grade requirements according to USDA (United States Department of Agriculture) laws and regulations.
Licensed exclusively to BlueScope Steel
BlueScope Steel has an exclusive license for the Microban technology and the Microban trademark in Asia-Pacific for pre-painted steel composite panels.
What is Microban
Microban is the worlds leading antibacterial technology, and is proven to inhibit the growth of surface bacteria that can cause odors, stains, food poisoning and allergies. Used in hundreds of commercial and consumer applications around the world, Microban technology is approved by or in compliance with food contact regulations in Australia and New Zealand, as well as such regulations set forth by the U.S. Food & Drug Administration and the European Union Scientific Committee for Food. So you can be sure youre doing the best for your customers as well as your reputation.
Colour
CRP ANTIBACTERIALTM steel is available in two colors:
Cool Room White
Cool Room Alpine
Proven Performance

Independently Tested
CRP ANTIBACTERIALTM steel has been independently tested in the U.K. in accordance with Japanese Industrial Standard JIS Z 2801:2000, the most widely used protocol for testing of antibacterial performance in the world. Tests were conducted against Staphylococcus aureus and Escherichia coli 0157, both of which can be of particular concern to those seeking to maintain good food hygiene standards.
Product Advantage
The antibacterial protection will provide CRP ANTIBACTERIALTM steel with a significant performance advantage which will allow panel manufacturers who use CRP ANTIBACTERIALTM  steel to differentiate themselves from those who manufacture panels using steel from other sources.
CRP ANTIBACTERIALTM steel contains Microban antibacterial protection, which:
Is effective against Gram-positive and Gram-negative bacteria. It neutralizes the ability of bacteria to function, grow and reproduce.
Is tested effective against Staphylococcus aureus and Escherichia coli 0157.
Is built into the product during manufacturing to inhibit the growth of bacteria that can cause odors, stains, food-poisoning and allergies.
Reduces risk of cross-contamination.
Is non-toxic.
Does not lose significant antibacterial properties when washed.
Is durable: lasts for the useful life of the product.
Is resistant to corrosion for durable cool rooms.
Helps to protect difficult-to-clean areas.
Safe for humans and the environment.
Product Testing
All physical property tests by BlueScope Steel Research confirm that the product has met all specifications.
The antibacterial testing conducted by independent third party laboratories demonstrates that CRP ANTIBACTERIALTM steel offers excellent antibacterial efficacy.
Specify CRP ANTIBACTERIALTM steel by Name
Specifying cool room panels made using CRP ANTIBACTERIALTM steel is the only way to be youre your business can benefit from its many unique advantages as well as the unmatched technical support and backing of BlueScope Steel.
CRP ANTIBACTERIALTM steel can help minimize the risk of cross contamination in your facilities, so be sure to specify CRP ANTIBACTERIALTM steel by name.
Applications
Designed for cool rooms and hygiene sensitive applications CRP ANTIBACTERIALTM steel is specially designed for insulated panels used in the construction of food storage and processing facilities and structural surfaces such as walls, ceilings, walk-in coolers and exterior refrigerator freezer panels where there is a possibility of incidental contact with meat or poultry food products. With a smooth, easy to clean surface, insulated panels made using CRP ANTIBACTERIALTM steel are ideal for:
Cold logistics facilities
Supermarkets and other retailers
Abattoirs and slaughterhouses
Food processing and manufacturing facilities
Restaurants and cafes
Easy to Clean
The antibacterial protection offered by CRP ANTIBACTERIALTM steel is not a substitute for a thorough cool room hygiene regime, but it does provide added reassurance, 24 hours a day. With a smooth, unencumbered surface, insulated panels made from CRP ANTIBACTERIALTM  steel require no special cleaning procedures or products. Regular cleaning will not wash off the antibacterial protection.
Raising the industry standard
Panels made by bonding CRP ANTIBACTERIALTM steel with an insulating core have been the industry standard for the walls and ceilings of temperature controlled environments for many years. Insulation performance, durability, speed of construction, spanning capability, ease of cleaning and light reflection qualities are just some of the reasons.
CRP ANTIBACTERIALTM steel, with its superior antibacterial performance, has raised the industry standard to include greater hygiene and the reduced risk of cross-contamination.